Hans im Glück Restaurant Orchard Singapore | Restaurant Interior Photography
Interior Photography, Lifestyle Photography and Product Photography project for Hans I'm Gluck Restaurant in Singapore. Hans Im Gluck was a unique restaurant to photograph as the interior design was unique with birch trees coming up through the floor. The concept of this commercial phtography shoot was to create little pathways between the trees to the viewers special dining space within the image.
Hans Im Gluck restaurant has two unique feels; a bright and airy lunchtime atmosphere and a dark and intimate dinner atmosphere. Creating interior photography to capture these two moods was very important. The daytime image shows the unique seating arrangement where the viewer has their seat within the trees. The dusk Interior photography shows the intimate lighting and is more focused on the aspects of the restaurant bar. The dusk interior image has 35 flash exposures blended into the ambient exposure to create a crisp and warm feel to the image.
The restaurant has 4 distinct sections. The front restaurant area is directly on Orchard Road and allows for a unique people watching experience. It's always the perfect temperature in Singapore and the breeze gently blows through this open air section.
The middle rear of the restaurant has a second bar and longer tables for groups and lunch meetings. Once again it is open air with a covered ceiling which has ceiling fans. The restaurant is south facing and the natural light from 12pm onwards is glorious. The goal of the interior photography was to capture the bright and airy feel to this section of the restaurant and show the lush green surroundings of this unique space.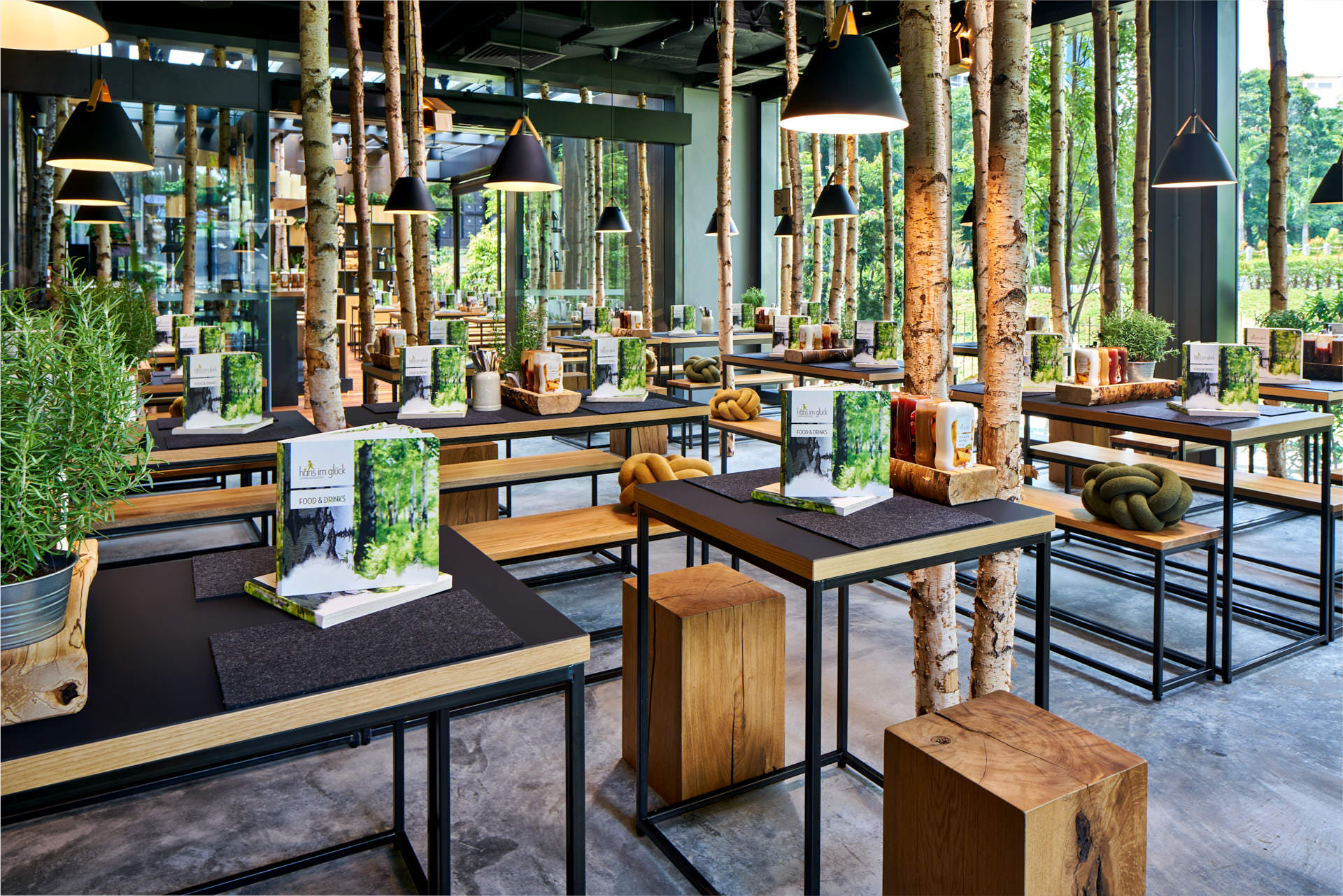 The rear of the restaurant features a closed area which is air conditioned. Once again the exposed birch trees create a unique environment and give the viewer their unique space within the trees.
Lifestyle photography was also captured to show a lunchtime dining experience at Hans Im Gluck. Two ladies about to enjoy two of the unique burgers that the restaurant offers. Served by a staff member who places one of their unique cocktails. A unique dining experience in Singapore surrounded by lush greenery in their own unique space between the trees.
Various interior photography images to show the unique details of the restaurant.
Product photography showing the unique sauces offered by the restaurant.
Interior Photography Image Gallery