Architectural Photography of Bugis Junction in Singapore
Architectural Photography and Interior Photography project to create images of Bugis Junction Mall in Singapore for Design International Architects. Bugis Junction is comprised of 3 blocks of preserved pre-war shophouses which has been developed into a mall. It was the first glass covered galleria shopping mall in Singapore and in Asia linking 3 streets - Malay Street, Bugis Street and Hylam Street.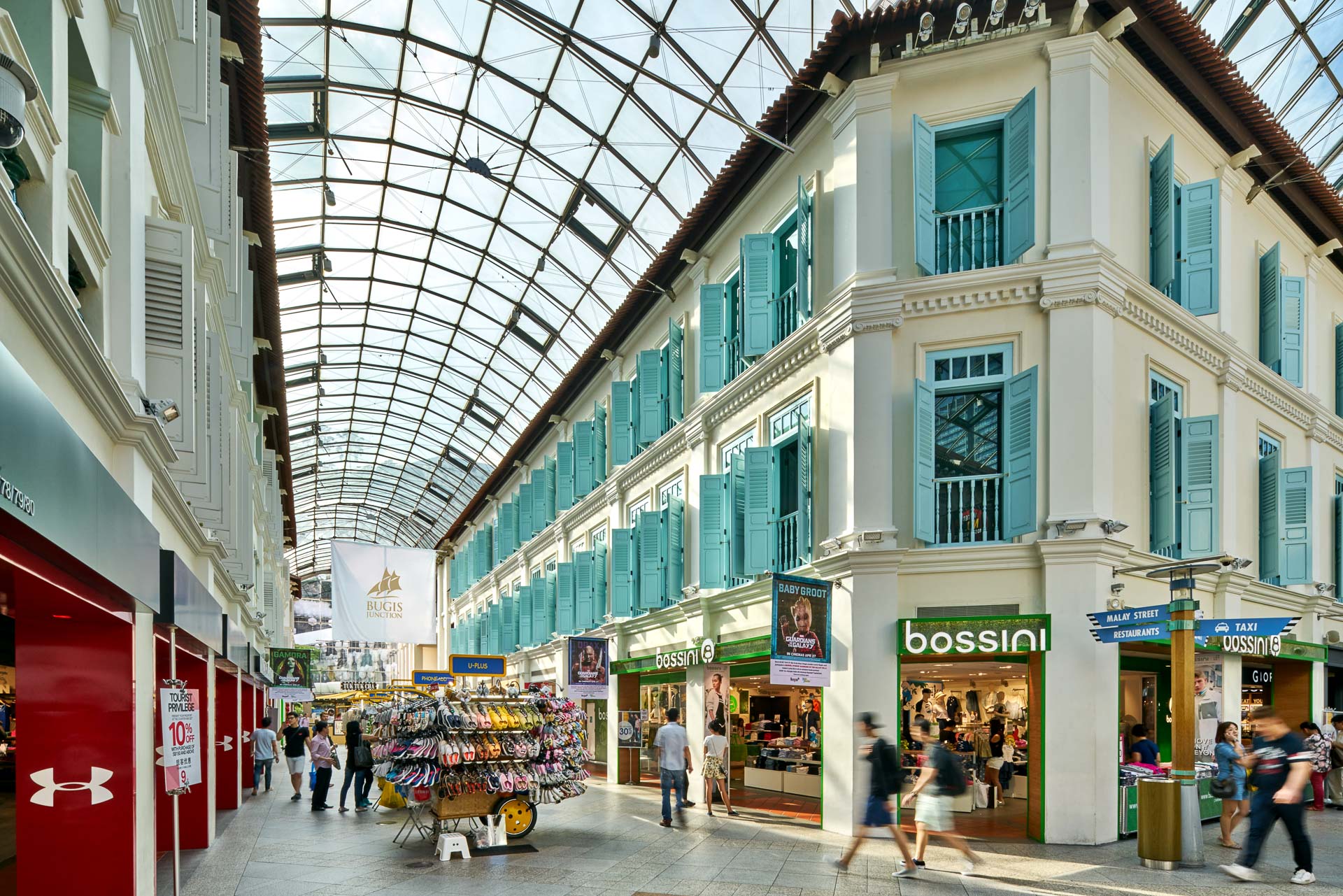 My photography technique for interiors and architecture is built on compositing multiple images together in post production.

For this style of architectural photography I captured the interior of the mall in several different exposures to capture the full dynamic range of light which I manually blend together in post production. I then slowed the shutter of the camera to produce a slight blurred effect on people. I then took numerous photos of interesting people walking so they would fill areas of the frame. In post production I composited these people exactly where I thought they should be to complete the composition of the image.
My goal in creating the architectural photography for this project was to capture Bugis Junction at a variety of different times of day. The Interior Photography required multiple photo shoots to capture the interior at a variety of different lighting schemes.
The light at mid day illuminates the entirety of the main walkways. In the afternoon the light softly lights up the blue shopfront shutters on Malay Street and at dusk the deep blue sky accentuates the glass ceiling in the galleria. 
In addition to architectural and interior photography I was asked to create images of the details of the galleria ceiling
Bugis Junction is located at Victoria Street, Middle Road and North Bridge Road in Singapore. The covered streets with colonial style buildings left by the British empire preserves the authenticity of the area making this architectural project very well-regarded.